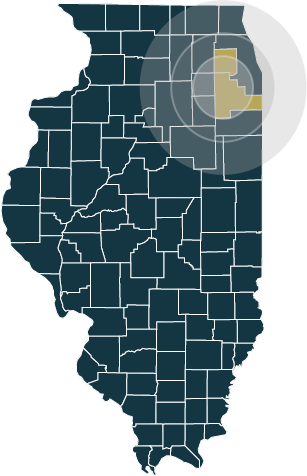 Why a Personal Injury or Workers' Compensation Attorney Near You Is Important
March 21, 2019
The Illinois Attorney Registration and Disciplinary Committee's most recent report (2017) shows 94,778 registered, active and inactiver, attorneys in Illinois. Cook County/Chicago accounts for nearly half of those attorneys. DuPage County hosts 4,299 attorneys and Will County hosts 957 attorneys.
No matter where you live, there is a local attorney near you who can help you and usually having a local lawyer means you will have a better experience. There are a number of reasons a local attorney beats having a remote attorney.
First, a local attorney will know the local lawyers and local judges better than an attorney from another area. The old joke is that, "A good attorney knows the law, a great attorney knows the judge." There is some truth to that. While being a regular in certain courtrooms will not result in any favors from the bench, it does provide a slight advantage. If an attorney knows how a judge is likely to rule on a particular issue, or what a judge considers to have the most weight in an argument, then the attorney can customize their approach to suit that judge. The inverse is also true - if an attorney knows that is likely to upset the judge then the attorney can avoid a few mines in the minefield. It also helps that judges and attorneys will know your lawyer, or at least your lawyer's reputation. We pride ourselves on having a reputation of being honest and civil attorneys who aggressively represent their clients' interests and never shy away from a fight worth fighting. Our reputation helps our clients because attorneys and judges take us seriously.
A local attorney helps ensure that you have access to the person you are entrusting your case to. Some of our clients want more interaction than others and we are happy to accommodate the needs of our clients. Fax machines and scanners are not necessarily found in most peoples' homes these days, so being able to "swing by our office" to drop off a medical record, a bill, or an off work note is very convenient for our clients. We can make a copy, add it to our file, and check in with our client for updates. Our cases can take some time to resolve and so we are always understanding when our clients are interested in receiving updates on the progress in the case and what to expect next.
Lastly, our reputation is important to us. We know the vast majority of our clients are also our neighbors. We live in Naperville, our office is in Naperville, we are raising our children in Naperville. For both professional and personal reasons, we want to make sure your experience with our firm is a good one. We have a vested interest in making sure those in our community have a lot of nice things to say about us to their friends, families, and neighbors. Take a look at our online reviews (Google, Avvo-Crannell, Avvo-Marker, Yelp)from actual clients and know that you can expect the same great service from our great, local, attorneys.
Call us today for a free consultation. We are happy to speak with you over the phone or schedule a time for you to drop in and meet with your local injury attorney!